I'm Al Guevara, WordPress Tutor. Began learning WordPress in 2009, and my 1st professional WordPress experience was 2010, (www.AlohaAz.org) a nonprofit I still help and tutor employee's on WordPress.
I started web design in 1995, designing websites by hand in "text editors, then with Microsoft Frontpage 1996, then Dreamweaver in 1998 . I began learning WordPress late in 2009.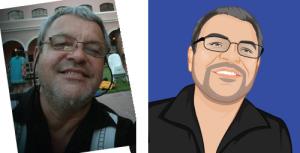 My 1st professional experience with WordPress was 2010. I converted a adobe dreamweaver website I did in 2004, AlohaAz.org, to WordPress in 2010. That nonprofit website I still help with from time to time, training various employees to do it themselves.
One of my most proud accomplishments is a website I created, and still maintain for DbsaTucson.org (Depression & Bipolar Support Alliance, Tucson). It is the cumulation of all I've learned about WordPress.
1995 began website creation, via text editors.
1996 began using Microsoft Frontpage.
1998 began using Dreamweaver (by Macromedia).
2005 began using Adobe Dreamweaver thru 2010.
Began learning WordPress 2009, eventually used on all my websites by 2012.